Apple Magic Trackpad (2)
2022-06-08 20:33:23
When I decided to get the Keychron K8, I originally wanted a cool mouse. I started testing my workflow with a cheap mouse from work, but I just couldn't get used to it. I decided to get an Apple Magic Trackpad (2) instead. I'm really glad I did because like I said in my K8 review, having both of these devices is like I just detached the bottom of my MacBook Pro and put it somewhere else. This combination is perfect for me.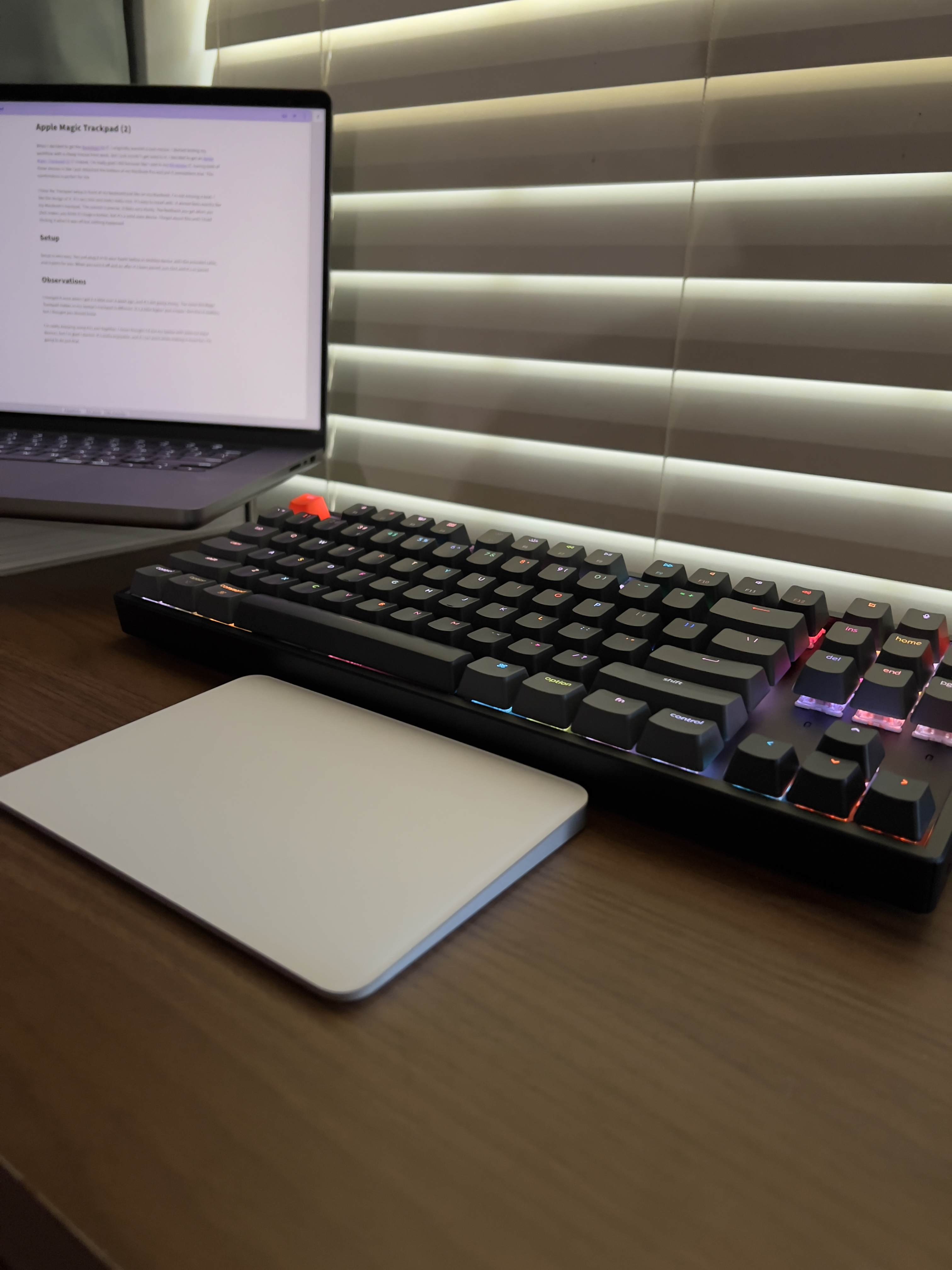 I have the Trackpad setup in front of my keyboard just like on my MacBook. I'm not missing a beat. I like the design of it. It's very thin and looks really nice. It's easy to travel with. It almost feels exactly like my MacBook's trackpad. The control is precise. It feels very sturdy. The feedback you get when you click makes you think it's huge a button, but it's a solid state device. I forgot about this until I tried clicking it when it was off but nothing happened.
Setup
Setup is very easy. You just plug it in to your Apple laptop or desktop device with the provided cable, and it pairs for you. When you turn it off and on after it's been paired, just click and it's re-paired.
Observations
I charged it once when I got it a little over a week ago, and it's still going strong. The noise the Magic Trackpad makes vs my laptop's trackpad is different. It's a little higher and crispier. Not that it matters, but I thought you should know.
I'm really enjoying using this pair together. I never thought I'd use my laptop with external input devices, but I'm glad I started. It's really enjoyable, and if I can work while making it more fun, I'm going to do just that.
Updated at: 2023-02-05 12:24:45
---
Read More From tech